Easily Make Posters Online with DesignCap
There are many popular ways to create beautiful posters like using Canva, PhotoShop, DesignCap, etc. Out of the them, I strongly suggest DesignCap unless you're already an adobe expert.
DesignCap is completely free, incredibly easy to use, and has just enough options to make posters quick without overwhelming you. Canva is my second choice. You can also use it for free but the extra graphics and stock photos will cost you $1 per one. Here I'll run you through this quick DesignCap tutorial.
Choose a poster template
DesignCap is built-in hundreds of templates for posters and flyers for all kinds of occasions like real estate, yoga, movie, safety, carnival, menu for special, etc. DesignCap divides the templates into many different categories such as Promotion, Music, Education, Party, Sport, Food, Holiday, Shop, and so on. Let's take a food poster as an example.
Add you own photos
To make the poster more practical for the real situation, let's add our own photos in. DesignCap offers three ways to add photos: from computer folders, Facebook albums, or search online. DesignCap is integrated with my favorite places for free stock images, Pixabay. I can almost always find what I want with this image resource. Just typed the keywords "Fresh Market" into the search box and press enter key. Then you can see many more image resources here. Go through them and pick one to use.
Once you add the image into the canvas, you can resize, rotate, crop, flip, add effect to the selected photo. There are a number of preset effects and filters. It's fairly flexible to add adjust its layers.
Choose your wording
Try to describe the contents in a few words. Want the text to be easily readable on the poster? Choose fonts, colors, sizes, that complement each other perfectly. It's better to choose the fonts you love the look of together as well. DesignCap allows users to choose text styles from the many preset samples at the left list. This makes it more easier and quicker to get a good looking text.
Use relevant clipart images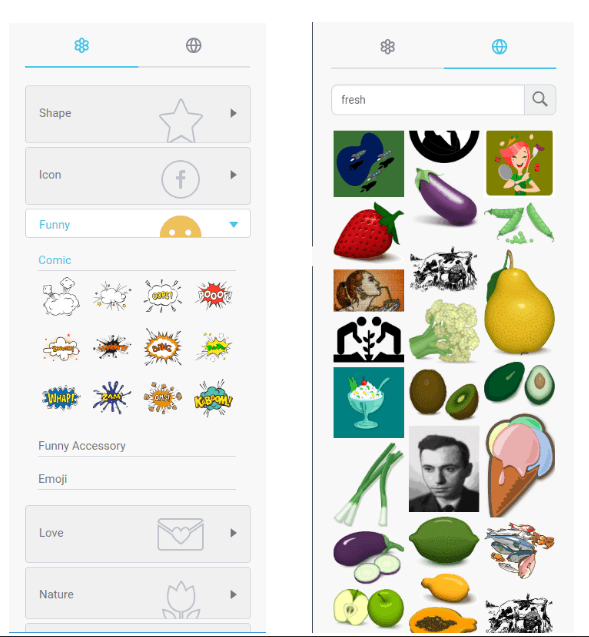 Using some relevant clip-art images will help you get your poster more appealing and unique. You are free to use the large a number of clip-art images in DesignCap app. Here you can see the categories of Shape, Icon, Funny, Love, Nature, Holiday, and so on. Alternatively, search online in its data base. For instance, here I came up with "fresh, receipt,food" and search them to use the final desired clip-art images. You can freely adjust the color and its opacity of the clip-art images.
Apply background
Besides the clipart images resources, DesignCap gives four options to add background: solid color, gradient color, preset image patterns and customize image. To use your own custom image, you need to manually add your image into the canvas and then adjust the size to cover the canvas and adjust it opacity if you want. Finally, adjust its layer to the bottom. That's fine.
Save your poster
Once the poster looks great, save it on your computer. Or share it via your Facebook, Twitter, Pinterest and Tumblr. You have the option to print it out directly in the app.
All in all, DesignCap has what it takes to make it to be a great poster maker. It excels in being quick and easy to use. What's the best, DesignCap is completely free of charge. If you want to make posters quickly and easily for free, DesignCap is a great option.